Hey, good morning all Hopers out there,
meet me again Elf boy.
I always pray, these crisis now will go away quicker. oh yea, don't forget to wear mask when you go outside in Japan. well, self protection is just basic protection.
Oke then Hopers, today i would like to share my story. i have been living in Japan for 3 or 4 years, don't really count it lol, but yea it is, and the experience was so astounding, haha, please bear with me.
For people who already live in Japan for a moment, you guys know already about these cards right, ICOCA, SIUICA, PiTapa and their other friends.
Do you know these guys? i bet you are using one of them, and there are a lot of them in Japan, according to place, there are different cards. but i actually using one card, which is ICOCA when i travel Japan. yeah not all places i have been there tho, but that's one of my plan.
ICOCA or SUICA or the other card are rechargeable contact-less smart card used on rail network in Japan. There are some cards as well, well lets talk about them here.
WHAT KIND OF IC CARD HERE IN JAPAN
Oke, lets talk about each of them, from what i always using, it is ICOCA, lol
       1. ICOCA

Lets talk about these, for people who live in Kansai part of Japan, like Osaka or Kyoto, i bet they already know about this card, right?  it is the prepaid IC card of JR West for JR trains in the Kansai (incl. Osaka and Kyoto), Chugoku  and Hokuriku regions. Well basicly you can use ICOCA in many places in Kansai, even out Kansai too, as from my experience these far.
        2.SUICA

Next is SUICA. This card have the same function as ICOCA more or less. Is is the prepaid IC card by JR East for JR trains in the Tokyo, Niigata and Sendai regions. I don't actually have this card, but my friends in Kanto region, they are using this SUICA card.
        3. PITAPA

For this card, i see the banner some times but i dont really see people or my friends using it, lol. It is the IC card of the Kansai region's railway and subway operators other than JR. Unlike the other IC cards, Pitapa is a postpaid rather than prepaid card and not easily available to foreign tourists.
         4.TOICA

Next, we have TOICA, which is i have never seen before, lol. Dont really know that this card exist in the first place, sorry. It is the prepaid IC card by  JR Central Nagoya for JR trains in the Nagoya area and some parts of Shizuoka prefecture. I don't really know about this TOICA  card because when i go to Nagoya, i was using my ICOCA card, and it worked.
          5. KITACA

Next, is this one, which is i don't know either. i mean never seen this before. Kita means North in japan, so it might be for the northern part of japan, right?.  It is the prepaid IC card by JR Hokaido for JR trains in the Sapporo region.
         6. MANACA

Yeah, don't really know what is this either. never seen it before. It is the prepaid IC card of Nagoya`s train, subway and bus operators other than JR and Kintetsu.
        7. SUGOCA

It is the prepaid IC card of JR Kyushu for JR trains in the Fukuoka , Kumamoto, Kagosima, Oita and Nagasaki regions. Never been there to Kyushu before so, you know, never seen it.
       8. NIMOCA

NIMOCA is the prepaid IC card of Nishitetsu for Nishitetsu trains and buses in Fukuoka and selected transportation in other cities on Kyushu and in Hakodate. 
        9. PASMO

PASMO is the prepaid IC card of Tokyo railway, subway and bus operators other than JR.
       10. HAYAKAKEN

Oke last one in this blog, Is HAYAKAKEN. HAYAKAKEN is the prepaid IC card of Fukuoka city for the Fukuoka Subway.
There are a  lot of them right? But, i think you can USE ONE OF THEM EVERYWHERE!! well, i am using ICOCA and it worked like amazing in every place that i ever went before, but yea, forgive me if i am wrong.
HOW TO MAKE ONE
If you want to make IC card in Japan, it is easy. example for ICOCA, well you might can not make it in a small station, but you can always make it in a big city station for example in Osaka station or Kyoto station. just go to the machine, if you understand japannese then just click the "Make ICOCA", which is there is a ICOCA's picture there, well if you don't know.
But if you don't understand Japanese, just change it to English, then go for it.
Or, if you in a hurry and cant do it by yourself, just call the staff and they will make it for you tho, for service free.
When you make ICOCA, you need 2000 Japanese Yen, 500 yen for the card payment, and it will be automatically charged 1500 yen inside. Nice right?  i know.
Next lets talk about my ICOCA.
My ICOCA is called TEIKIKEN or 定期券(ていきけん), an upgraded version of original  ICOCA. it is basically have the same function as original ICOCA, but like a commuter pass. When we make it, we decided starting place and the destination place, the period, i mean how long you gonna use it. As for me, i decided my home station as the starting station and the station near my work place as my destination station. The good things here is, of course it is going to be cheaper, than if you pay it everyday, and you can go between those station for free, as long as those station in between your starting station and destination station, you can go there, anytime in a day, for Free, yes, Free. so, it is really good. So i made one.
Now the bad thing is when you lost it, you will lost all your money inside, that you already paid example for one month.
But don't fret, lol. Japan know this, so when you make the card, you have to put in your name, date of birth and you phone number. So when you lost it and people take
it, bring it to the police for you. They will call you and give it back to you.
The card looks like this.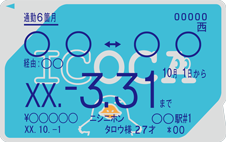 Now My Story
I LOST mine. well i even didn't realize i lost it after the police called me, asked my name and asked that did i lost my Teikiken? and i was "oh yea? really?" kinda expression there. Shock of course. and when i checked it, yeah, its gone, it wasn't in the place i always put it.
The things that i like is, (you know i always had this bad opinion about policeman before, especially in my own country, sorry tho) when i said i don't know where is the police station is, they teached me, with bus or with train. the place was not in a easy place to reach by bus or train, but they really explained to me the best ways. yeah, i love Japan. Sometimes Japanese are so strict, but because of that they are so good, in a way.
So i went to the police station that they mentioned, i got lost of course lol. But i arrived. And they just asked why i come, i explained, they told me to sit and wait, and you know what, it is just for 3 minutes, they came with my TEIKIKEN ICOCA card, it was soooooo fast. i thought it will be like 1 hour waiting. i was wrong.
After that they want me to fill in some paper. They also wanted to see my registration card or residential car, so they will check if that ICOCA is actually mine or not. which is i think it is proper.
And they also get me a MAP, you know for crying out loud, i swear, they brought the map, and they showed me where is My ICOCA was found. And they said that the one who found my ICOCA was in a hurry and he just left, and he doesn't want anything. I am so Happy, i really thank to that someone who found my ICOCA. i wish i can meet you and say thanks properly.
By the way this is my ICOCA when i got it back, and i know why i lost it..
Goin to be more careful now.. Bye for now… Hope!rs